Rack your brains over a gift for your dear or business partner?
Can't find what to present to a hard-to-buy-for person?
Or just want to make the most memorable gift to someone special?
We solve your problem offering you the best possible idea – MiG-29 flight gift certificate!
Buying flight certificate you'll be able to make a unique and most extraordinary gift for your dear! Stunning impressions, bright emotions and long-lasting memories guaranteed!
Supersonic jet fighter flight is a unique exclusive program. The only place in the world where civilians can perform a flight aboard military jet fighter is Sokol airbase in Nizhny Novgorod.
Flight Gift options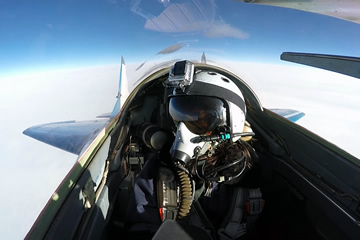 Edge of space flight gift
The most popular #1 flight program.
The fighter climbs to 18 km altitude where you can see the space depth and the horizon curvature.
After descent the fighter performs a set of advanced aerobatics at supersonic speed.
Duration — 45 minutes.
More details on Edge of Space Flight Program
Mig-29 Advanced Aerobatics
Personal air show for certificate holder and his attendants.
Taking second pilot's seat in MiG-29 cockpit our guest will conquer the skies and perform various advanced aerobatics at supersonic speed.
The complexity of flight program is adjusted individually, the pilot starts with the simplest aerobatics proceeding to the most complex ones in accordance with physical well-being of the customer.
We offer two variants of advanced aerobatics program:25 and minutes flights.
More details on Advanced aerobatics program
PRESENT A GIFT FOR FIGHTER FLIGHT
After the flight your friend receives personal certificate signed by test pilot and memorable souvenirs.
But more important are the unforgettable impressions of this sky adventure!
MiG-29 gift flight video:

The price of the MIG-29 flight gift certificate includes:
Access clearance and all required permissions to visit the airbase and the Sokol aircraft building plant
Pre-flight medical examination by the airbase doctor
Flight program briefing with your test-pilot
Personal flight gear, its' adjustment and training on how to use
Cockpit briefing on controls, indications and communication
Flight onboard MiG-29 Fulcrum supersonic jet fighter in accordance with the flight program
Memorable certificate about flight completion with actual flight parameters, aerobatics maneuvers and signature of your test-pilot
Exclusive copyrighted photo, taken by the external camera with wishes from the honored test-pilot
Memorable aviation souvenirs
Real airforce officer hat in winter time
Fitted hat with MiG-29 emblem in summer time
Transport service for the whole flight day
Access for two guests accompanying the sky conqueror
Visit to Sokol aircraft building plant historical museum before or after the flight on MiG-29 fighter jet
In case You've got a flight logbook – official record about flight onboard MiG-29 will be made
Memorable photos with the test pilot
We will be happy to answer all your questions on organization of MiG-29 jet fighter flights
+7 (495) 664-31-29
Besides the jet fighter flight itself we'll be happy to take care of the following:
Personal training flight suit
Hotel accommodation
Nizhny Novgorod city tour
Memorable souvenirs